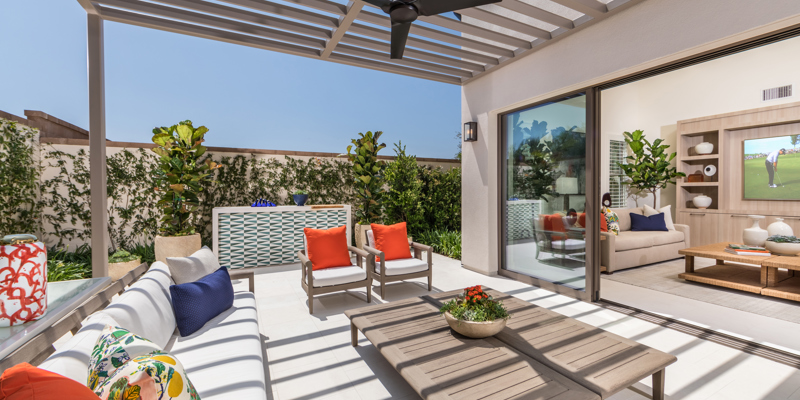 Homemade with Love: 8 Backyard Activities for Summertime Fun
Summer is almost here! Ahead of the season's official arrival, the Southern California weather has already begun to heat up. What better way to welcome warm, sunny days than by making homemade treats and crafts in your backyard? From fifteen-minute hand-shaken ice cream to DIY bird feeders, explore our list of eight activities for summertime fun that the whole family can enjoy.
Homemade Treats 
Courtesy of Delish - Parker Feierbach
Ice Cream 
You've heard of ice cream in a cone, but have you ever heard of ice cream in a bag? If you're looking for a fun way to sweeten up your children's day, you can make homemade ice cream using two resealable plastic bags and three simple ingredients: one cup half-and-half, two tablespoons granulated sugar and a half teaspoon vanilla extract. Simply combine ingredients into a small resealable bag, let out the excess air and tightly seal. Next, combine three cups of ice and one-third cup kosher salt into a larger bag and place the smaller bag inside. Grab some oven mitts or a dish towel - you'll need these to keep hands warm from the cold - and have kids shake the bag for 7 to 10 minutes until the ice cream hardens. After carefully removing the ice cream, you can have kids add their favorite toppings, like sprinkles or fresh fruit!
Solar Oven S'mores 
Summer nights are perfect for making s'mores over the fire, whether it's from the heat of your outdoor fireplace, barbecue or firepit, or even in your oven's broiler. On hot summer days, you can turn s'mores into a science project - heating them up in a homemade solar oven. All you'll need is a small cardboard box (a shoebox will work), a few household items and, of course, marshmallows, chocolate and graham crackers! Within a few simple steps you can create and insulate your solar oven, place s'mores on a plate or pie tin inside and let the sun work its magic. The best time to heat them up is while the sun is high overhead, between 11am to 3pm. While the s'mores soak up the sun, you can go for a walk or bike ride around your neighborhood and come home to a sweet treat!
Popsicles
Not every sweet treat has to have a ton of sugar - with these homemade frozen popsicle recipes, you can enjoy healthy fruit popsicles that taste great and are fun to make. Simply choose your favorite fruit, like sliced mangos, bananas or strawberries, and combine them in a silicone popsicle mold with a cup of milk, coconut water or yogurt with a dash of honey or sugar. No popsicle mold? No problem! Muffin tins, yogurt containers and loaf pans can be used as substitutions, just pour in your ingredients, tightly wrap them in aluminum foil and poke popsicle sticks through. You can also find dinosaur-, penguin- or sword-shaped popsicle molds and more to make the experience even "cooler" for your kids! 
Sun Tea
Courtesy of The Pioneer Woman
Sunny weather isn't just made for ice cream and popsicles… it's for making sun tea! Whether you have a large beverage container or a mason jar, you can grab whatever tea you have in your pantry - green tea, a black tea blend like Lipton's, or hibiscus tea, toss them in water, cover your dispenser and set them out in the sun. Depending on how hot it is outside or how dark you like your tea, between 2-3 hours of sunshine will do the trick. Have kids help you stir in a sweetener of your choice, lemon and even fruit for a refreshing summer drink.
Handmade Crafts 
Courtesy of JOANN Fabric and Craft Stores

Tie-Dye Butterflies
While we often see butterflies year round in sunny California, summertime is peak butterfly season, because they flourish in the heat. If you're feeling inspired by these fluttering friends, you can create tie-dye butterflies out of coffee filters or tissue paper to hang up around your backyard or home. Have kids color the coffee filters with markers. To keep your backyard stain free and clean-up easy, you can place the coffee filters on a plastic tablecloth or paper bags and then sprinkle water drops onto the colorful filters using your hand, a squeeze dropper or a spray bottle. While the filters dry, you can add google eyes and pipe cleaner antennas to clothespins to use as the thorax and abdomen of the butterfly, once the "wings" dry. 
Barcelona Irvine Spectrum - Residence 4
Blow Paint with Straws 
Fun for children of all ages, you can set up your own art studio on your backyard patio table and paint an abstract masterpiece. For this craft, you can skip the paint brushes and grab straws instead! First, place a sheet of paper on a plastic tray or baking dish for easy clean-up. Then, use a dropper to sprinkle droplets of liquid watercolor paint, or watered-down food coloring, onto your paper. Blow through a straw to move the droplets around to create unique paint splotch designs. Continue alternating between paint drops and straw movement until you're satisfied with the color on the page. Once it's dried, you can display them as is, transform them into cards to send to friends and family, or use them as art prompts to doodle on! 
Vivo at Reserve - Residence 4
Homemade Slime 
If you're looking for a quick and easy kid's craft that will keep children entertained for hours, it's time to make some slime! To start, squeeze an 8-ounce bottle of white glue into a bowl, then mix in a tablespoon of baking soda. If you'd like to change up the color, you can also add a few drops of food coloring. Lastly, add in the activator: 1 ½ to 2 tablespoons of contact saline solution. This creates the chemical reaction that transforms the sticky substance into stretchy slime. To add to the calming effect that kneading, twisting and rearranging slime can create, you can also toss in a few drops of lavender essential oil. 
DIY Birdhouse 
After making your 15-minute ice cream, you may have an empty carton of half-and-half laying around. Instead of tossing it in the recycle, you and your little ones can use them to create customized birdhouses. Once the carton is washed and dried, cut one or more sides out of it. Next comes the fun part, decorating! Children can color the outside of the box with acrylic paints and add stickers or glue on twigs, jewels and more. Fill the bottom of the carton with birdseed, hang your feeder above five feet from the ground and welcome your backyard birds to their new favorite spot. Those who live at the Reserve in Orchard Hills or Barcelona Irvine Spectrum can watch birds flock to the birdhouse through the panoramic doors in the Great Room. 
If you're still traveling along your homebuying journey and haven't found your own perfect "birdhouse" yet, our sales counselors at the Villages of Irvine can help! Offering spacious floor plans and unmatched locations, our communities provide everything you need - within reach. Contact your neighborhood of interest for information about office hours, model home tours, and move-in ready residences today and take the next step to enjoying these summertime activities in your new backyard.