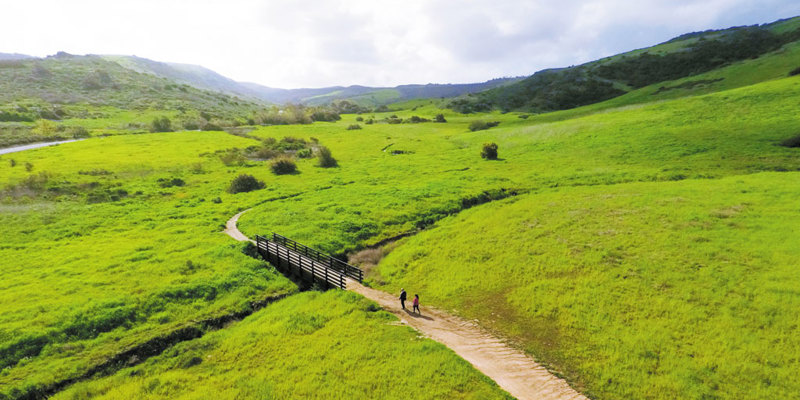 Three Reasons Why Irvine is an Exceptional Place to Live
There are endless reasons why Irvine is an exceptional place to live. To start, the city was developed 50 years ago to be the heart of an environment "where nature and man both prosper." Today, it still embraces the land's natural beauty and provides a community unlike any other for families to thrive. With the city's emphasis on sustainability and open space, nationally recognized accolades and endless area attractions, here's what makes Irvine one of the best places to live in Orange County and all of the United States. 
1. Parks and Open Spaces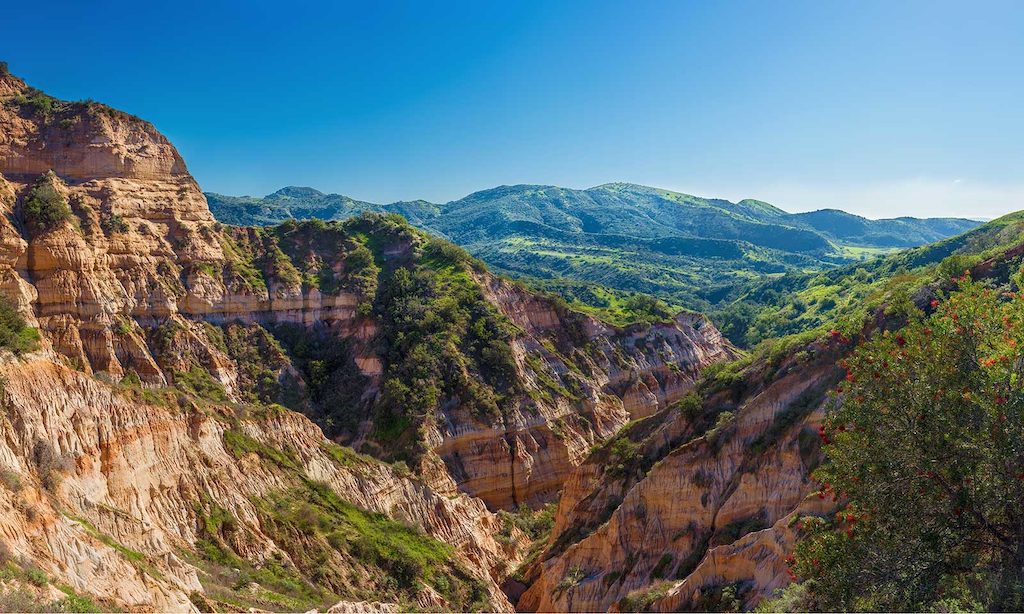 The preserved open space is one of Irvine's greatest assets. Limestone Canyon in the Northern Preserve and Bommer Canyon in the Southern Preserve both showcase Irvine's long-withstanding pledge to conserve nature and its inhabitants. Irvine has been consistently successful in curating the best of both worlds for the local community. Self-guided hiking and mountain biking within Bommer Canyon and Quail Hill are available as recreational opportunities in the stunning Open Space Preserve. In total, this well-connected city provides more than 60 miles of off-road biking trails. In Irvine, adventure and nature usefully coexist thanks to dedicated stewardship. 
The award-winning Jeffrey Open Space trail was developed as a cornerstone of the Irvine community. This scenic path provides seamless access to nature and the surrounding villages. Families can enjoy numerous activities together, such as hiking and bike riding, along a picturesque 5-mile trail that travels from the Santa Ana Mountains to the Pacific Mountains. Irvine also features numerous parks that were created for the residential villages. They provide access to pools, playgrounds, basketball and volleyball courts and picnic areas. Each of the villages was built with resort-style amenities that enhance daily living and allow families to spend more time together. It's an urban oasis that is truly one of a kind.
2. Best of the Best Ranking
The city of Irvine receives numerous accolades every year and consistently ranks as one of the best overall cities to live in the United States. Not only is Irvine listed as one of the top 10 greenest cities in America, it's also recognized as one of the happiest cities and a top place to start a business. In fact, a third of Fortune 500 companies have a presence in Irvine and its Spectrum District, providing jobs and attracting talent from all over the world. In addition to global giants including Google, Taco Bell, Mazda and Amazon, the city is a magnet for startups and new investment. 
In terms of education, families can delight in knowing that Irvine also has a great scholastic system from kindergarten through college. As home to the University of California Irvine (UCI),  Concordia University, and Irvine Valley College, Irvine is listed as one of the best college towns and cities in America. Other colleges also have campuses in Irvine, including the University of Southern California (USC), Cal State University Fullerton (CSUF), University of La Verne and Pepperdine University.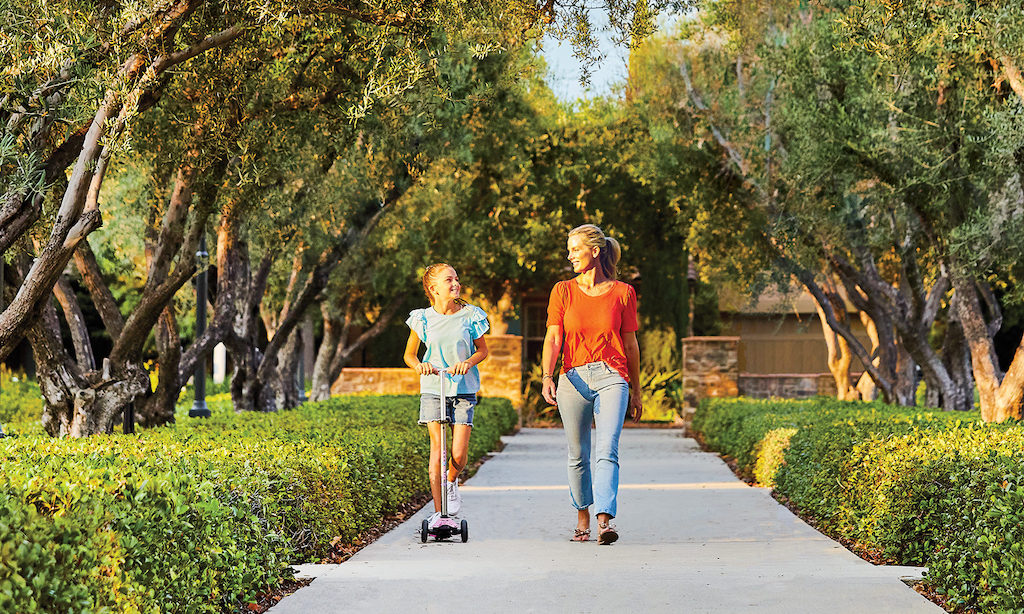 With well-lit paths for walking and biking, Irvine was built with safety in mind and has been revered as one of the safest cities of its size for 17 years straight, giving greater ease to Irvine and its acclaimed community. The carefully curated Irvine villages were created with residents in mind, where families could easily walk to schools and shopping centers with markets, restaurants, recreation and more. 
3. Area Attractions
Residents can enjoy every masterfully planned detail Irvine has to offer, including one-of-a-kind dining and shopping experiences. With Irvine's international community of residents, the city is also home to a host of global cuisines. For a more local experience, a farmers market is available almost every day of the week for Orange County residents to purchase fresh produce while supporting local farmers.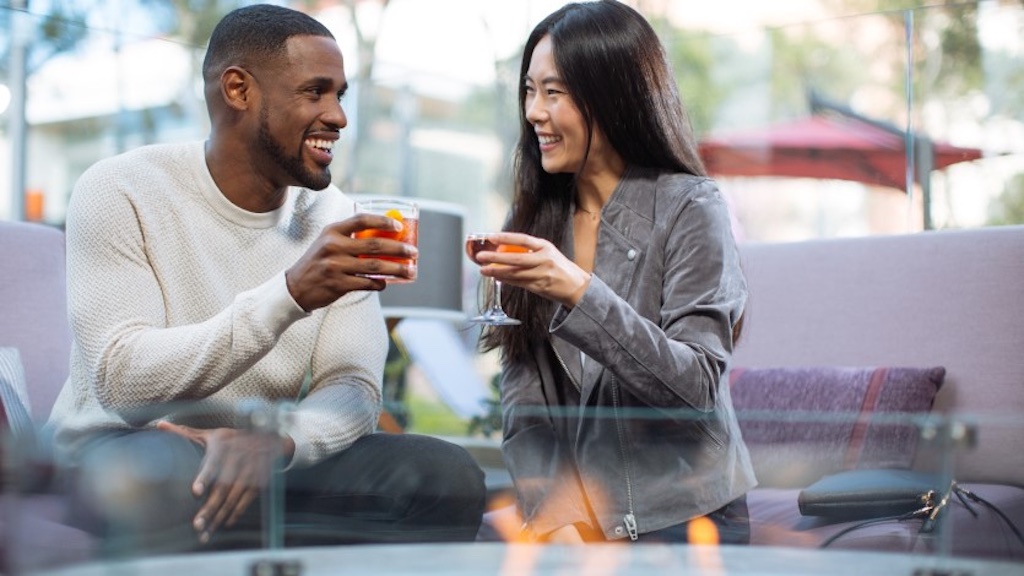 For a day of shopping and recreation, Irvine Spectrum Center is a vast, open-air shopping center with a variety of shops. The Irvine Spectrum Center also includes family-friendly activities such as the Giant Wheel, a carousel, a playground known as the Spectrum Climber, a Regal movie theater, Dave & Buster's and The Escape Game. For laughs, the Irvine Improv hosts weekly shows with top-notch talent. Irvine's perfect location within Orange County is close to coveted area attractions. Families can enjoy a full day of entertainment at Disneyland or opt for a coastal adventure at many of the beaches of Orange County. For days of sightseeing and adventure, families can choose to visit one of Orange County's local gems, including the pier at Huntington Beach, the art galleries at Laguna Beach or the quaint and charming essence of Balboa Island.
Decade after decade, families continue to choose Irvine as the place to call home. With its dedication to parks and open space, commitment to more sustainable practices and leading green initiatives as well as its abundance of entertainment, Irvine is a top place to live and raise a family – not just in Orange County, but throughout the United States. Learn more about life in Irvine and find the perfect home for you and your loved ones.