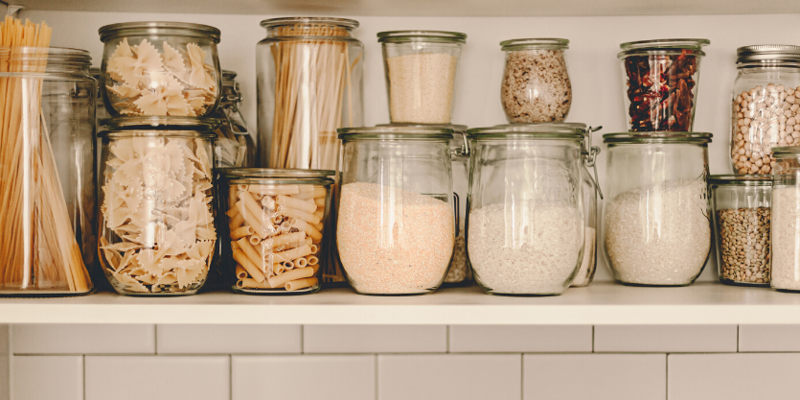 4 Tips for Redecorating & Reorganizing Your Space Without Leaving Home
Unused mason jars, your children's crafts and forgotten collectibles collecting dust in your "junk drawer." These are all items you might have lying around, but little did you know they can each be used to redecorate, reorganize and revamp your house. Check out our list of tips to upgrade your space without leaving home.  
Organization as Art
Highland at Portola Springs Village
Put clutter-creating objects to use! Starting with the laundry room, you can use mismatched hooks, an old curtain rod or even an old ladder sitting in your garage to create a unique drying rack. Grab a few unused hangers and you have the perfect space to dry or even steam delicates. 
Who said pantries can't be a sight to see? Take old sauce jars, mason jars or unused glass containers to eliminate cardboard boxes and beautifully organize your dry food. The perk is that all your food will be visually displayed so you can track when you need to replenish an item and it also prevents items from going stale. Beautiful functionality! 
Ravello at the Reserve at Orchard Hills 
If you're a parent, your fridge is likely used to store something as valuable as food - your children's art work. After displaying them on the fridge for some time, conserve those memories by placing them in a photo album. These albums can fill up some of the empty spaces in a bookcase or shelving throughout your home, and you'll enjoy looking back at the masterpieces with family for years to come. If you want to invest in professionally bound books to house these works of art, Plum Print is a service that takes your kids' crafts, including 3D sculptures, rolled-up murals, macaroni necklaces and more, and commemorates each piece into a one-of-a-kind photo book that stands the test of time.
Change Up Your Coffee Table 
The coffee table is usually the centerpiece of the room, so don't be afraid to switch up its table decor throughout the year. Use the current season as inspiration for your coffee table! Fresh blooms from the backyard can bring some fresh color to your table. Make the flower hues pop by looking for knick-knacks, candles or favorite books in your home with complementary colors. As we approach summertime, consider using fruit stacked in a vase or decorative bowl to add some charm to your tablespace. To keep the table tidy, use a serving tray to consolidate these decorative items. 
Rearrange Your Furniture
Barcelona Irvine Spectrum
Sometimes all you need to do to completely change the look of your space is switch up the placement of key furniture pieces. Homes in the Villages of Irvine offer vibrant open spaces that create fluidity between rooms and create endless, unconfined design options to customize your space. 
The first rule when rearranging your furniture is to pick a focal point of each room -- the fireplace, the mantel, a panoramic window, or a television/media unit. All decor and furniture should maximize the beauty and functionality of that focal point. Be sure to consider the size and placement of the furniture to ensure there is variety throughout the room, preventing lopsided spaces. 
Next, define high-traffic and conversation areas throughout your home. These spaces should remain open and easily accessible. For instance, there should be at least two feet between the coffee table and sectional or accent chair. This allows enough room to walk through the space without difficulties, but also provides a functional table for future guests to set drinks or appetizers when sitting down.
Ravello at the Reserve at Orchard Hills 
As you rearrange your furniture, consider new usage for your beloved pieces. For example, if you've recently rediscovered your love of reading, you may benefit from your own reading nook. Create a little oasis for yourself in a Great Room, the corner of your master suite or even utilize the den. All you need is an accent or lounge chair, lighting and a side table, and you can escape into a relaxing good read. 
Bring Out Your Sewing Machine
Verdi at Reserve at Orchard Hills
Crafting is not just for the kids of the house. Bring out your creative side and use old tablecloths or sheets to sew up unique throw pillow covers for bedrooms, Great Rooms and playrooms. Swapping out throw pillows can transform the room with textures and pops of color. Like the coffee table, throw pillows can be catered to the seasons -- think light, floral or patterned designs for spring and summer, and plaids or dark hues for fall and winter. 
If you're ready to take on more advanced stitching, try your hand at reversible table runners, table cloths and placemats. It's the perfect solution when you can't decide on your favorite pattern for the table -- use both! Double-sided table setting cloths also provide more durability for spills and stains, preventing leaks onto the table. 
Upgrading your Irvine home with easy redecorating tips and tricks can be a fun and rewarding activity during free time inside. Learn more about the unique neighborhoods and spacious homes in Irvine Pacific today.