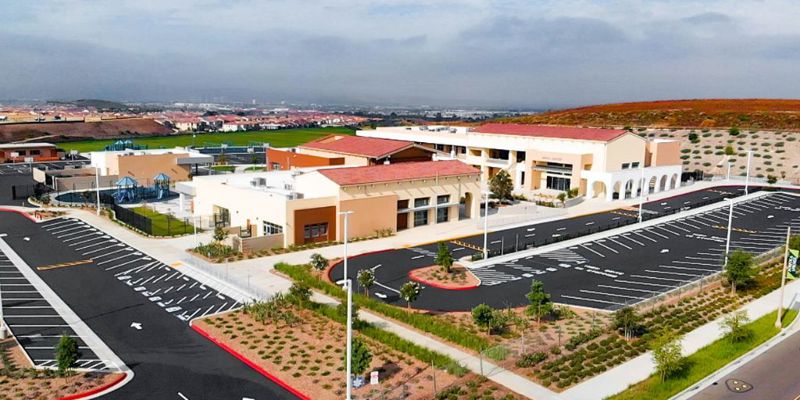 Irvine's Commitment to Education Brings Better Schools to the City
The City of Irvine is a premier destination for homeowners, and when you own an Irvine Pacific home, you will enjoy the many benefits of life in Irvine. Aside from convenient shopping and dining, resort-style amenities and easy access to Irvine trails and parks, living in Irvine grants residents the luxury of access to top-rated public schools and six colleges. For 50 years, Irvine Unified School District has been recognized across the country for its excellence in academics, arts and athletics. Boasting a diverse population of over 36,000 TK-12 students, Irvine is home to an early childhood learning center, 24 elementary schools, five K-8 schools, six middle schools, five public high schools, one alternative high school and two virtual academies. Tustin Unified School District is also home to 18 elementary schools, five middle schools, four high schools and alternative and adult education programs. 
Many factors contribute to superior learning environments in these districts, including the talented educators that allow students to thrive, the technology available in classrooms and the City of Irvine's commitment to education. Keep reading to learn why Tustin and Irvine public schools continually exceed state and national standards.
Top Rated Schools: A Step Ahead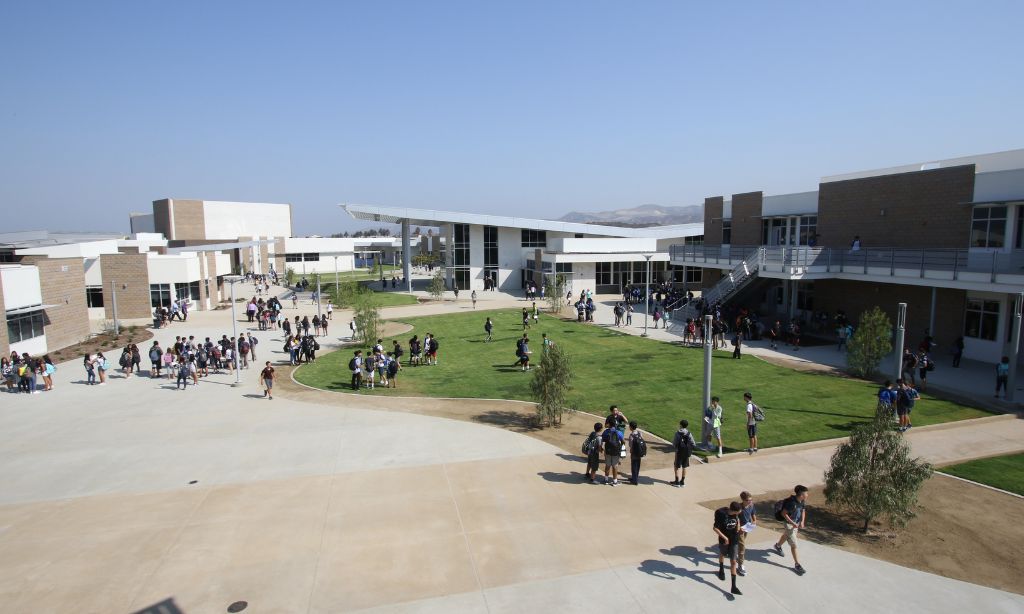 Portola Springs High School
There is great value to owning a home in Irvine, where education is prioritized in top-rated schools. Irvine Unified School District candidates undergo a rigorous eight-step hiring process before being selected as staff. This ensures that the district is equipped with the highest quality of teachers, creating an environment where students thrive scholastically. Third-party websites, like GreatSchools.org and PublicSchoolReview.com, evaluate various factors in the public education system when generating reports to provide reliable student information for parents. They review academic progress, college readiness, state standardized tests and college acceptance scores, such as the ACT and SATs. IUSD is the highest-rated school district in Orange County (earning an A+ rating from Niche.com) and one of the best districts in the state. Tustin Unified School District is also home to several California Distinguished Schools and National Blue Ribbon schools.
Technology Advances Learning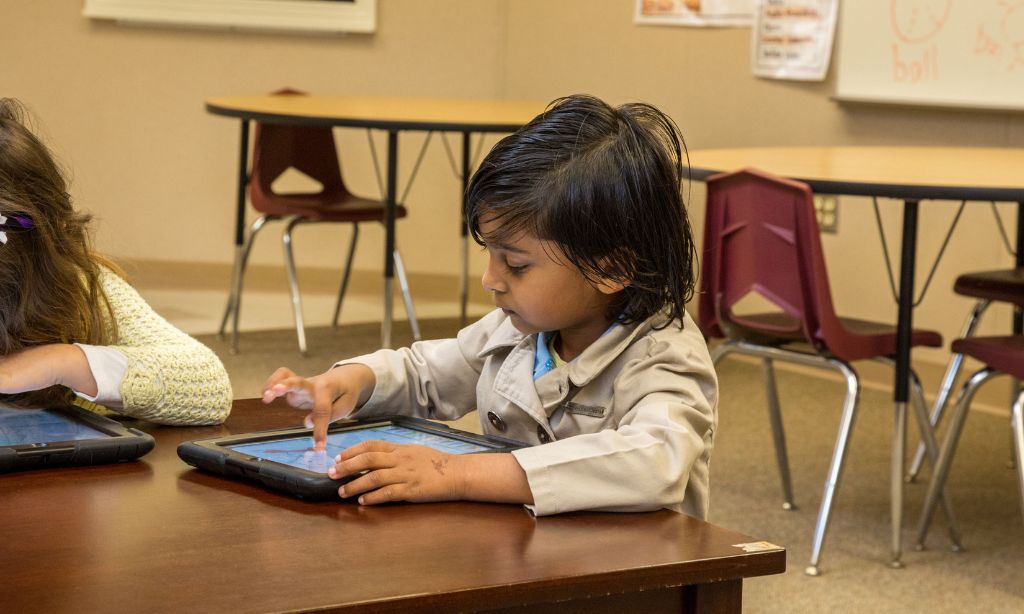 Hicks Canyon Elementary School 
Aside from communication between staff and parents, Tustin and Irvine public schools also embrace technology in the classroom to stay ahead of the curve and help keep the schools competitive. An up-to-date technology plan enriches student education by leveraging modern advances to extend learning, maximize resources and promote creativity as part of IUSD's commitment to continuous improvement. Through this program, educators encourage students to dive deeper into topics they are passionate about so they can reach their full potential. Irvine Unified School District has provided iPads in nearly every classroom so kids can learn at their own pace while exploring the depth of their creativity. Future-forward thinking paves the way for kids to explore augmented reality by dissecting "virtual" frogs and human hearts. And as early as elementary school, some classrooms use Javascript and Python programming languages to teach robots to perform tasks and move on command. Even outside the public school systems, living in Irvine puts residents near places like Lext Robo Academy, where children can learn key STEM (science, technology, engineering, math) principles and participate in camps and friendly competitions. 
Irvine's Commitment to Education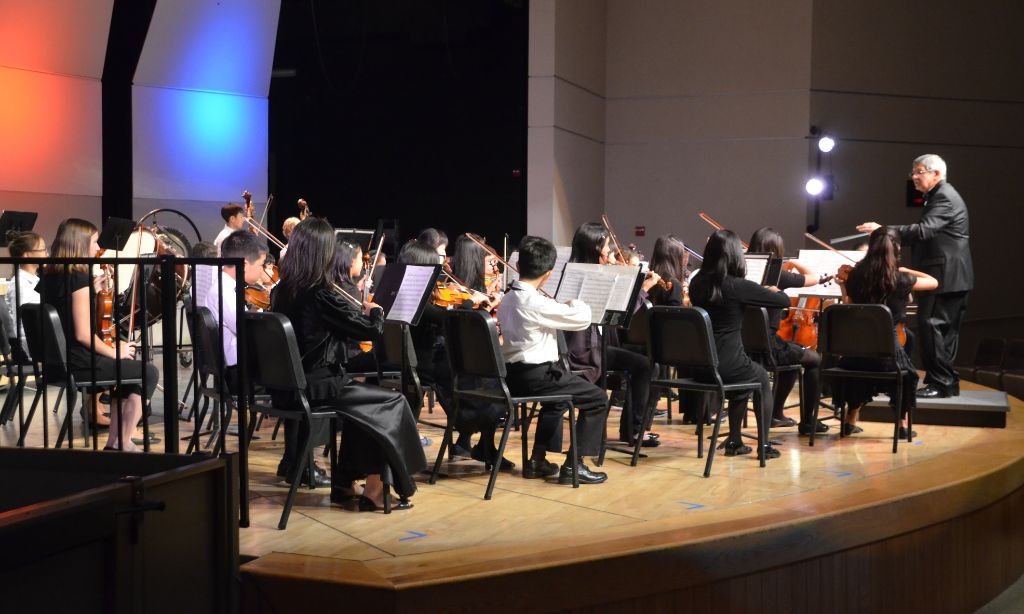 Beckman High School 
Since its inception, Irvine's masterfully-planned community has long focused on education. Irvine Company's Excellence in Education Enrichment Fund is a program that brings specialized programs in art, music and science to elementary school students. Through a 20-year, $45 million commitment, pupils in fourth through sixth grades are able to experience programs in these fields, typically reserved for high school students. In honor of the district's 50th anniversary, $2 million of the commitment was given to the Irvine Unified School District as an investment in Irvine's public schools. These funds helped schools implement two one-hour science lessons per week and two 40-minute music lessons per week, taught by specialized instructors. Having a community partner like Irvine Company bolsters the already fantastic IUSD, allowing children to explore fresh avenues and reach new heights through education and exceptional programs. At Beckman High School, students have access to the Challenge Success program through the Graduate School of Education at Stanford. This program partners with Beckman High School students, families and communities to implement a research-based approach to promote student engagement with learning. Additional support from the City of Irvine and strategic partnerships with top colleges are keys to why Tustin and Irvine public schools are highly rated.



Living in Irvine means that families have access to some of the best education systems in the country with IUSD and TUSD. Parents can feel confident that their children are in a high-quality learning environment and are challenged appropriately. Portola Springs Village and Reserve at Orchard Hills grant residents access to some of these incredible educational opportunities, where technology is at the forefront of learning, and music and art are supplemented through community support. Take the next step toward finding an Irvine Pacific home, and join our interest list today.