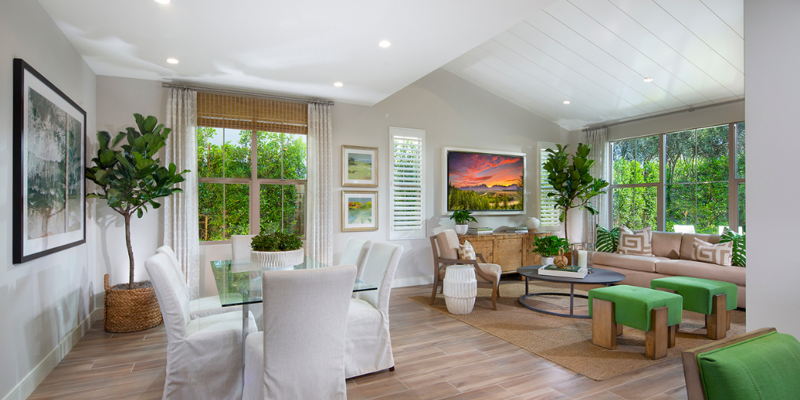 Best Tips to Spring Clean Your Home
Springtime universally symbolizes a time of refresh and renewal. It is the most ideal time to both organize and give your home a deep clean. You will instantly feel the difference after cleaning and  decluttering. Not only will the organization maximize your living space, a deep clean offers clarity and tranquility to the already special place you call home. Organizing your home room by room gives you an opportunity to focus on each space individually without feeling overwhelmed. Here are some ways to get started.
Great Room 
The Great Room is considered the forefront of a home and where families spend a considerable amount of quality time. A great way to maintain a tidy living space is to begin by dusting the bookcases, television, coffee and end tables followed by a gentle cleaning solution to further clean those areas. Next, use a HEPA (high-efficiency particulate air) vacuum to clean the carpet and trap droppings from dust mites, along with pollen, mould, pet dander or, alternatively, a soft-bristled broom to sweep and a microfiber mop to clean hardwood floors. For a deeper clean, consider steam cleaning the sofa, drapes, and rugs for a completely refreshed space. To keep the area nice, bright and airy, be sure to clean the windows and wipe down the walls. Adding some woven baskets or wooden crates to store blankets, pillows or toys will also keep the space looking neat and organized. 
Kitchen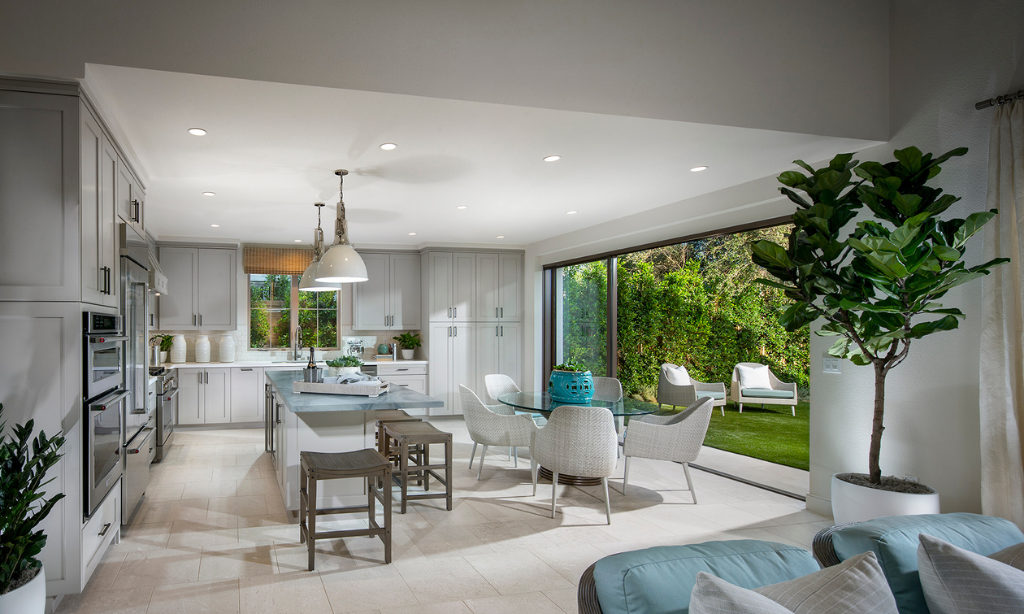 It's easy to lose track of time when cooking, dining and entertaining in an inviting, open-spaced kitchen. One of the best ways to keep the kitchen looking brand new is to start by cleaning the stainless-steel appliances, paying close attention to the areas most frequently touched. This normally includes the microwave panel, the refrigerator door handles as well as the knobs for the stovetop. Next, clean the countertops and degrease the backsplash. After the surfaces and appliances are clean, it's time to look inside of the refrigerator and toss anything that is old or expired. If you are interested in also organizing your pantry, make the switch from plastics to glass storage containers. It is not only visually appealing, but also good for the environment. If you want to give a new look to your spices, try putting them in mini oval spice jars with labels. It provides a minimalist look while also allowing you to find what you need in a pinch.
Bedroom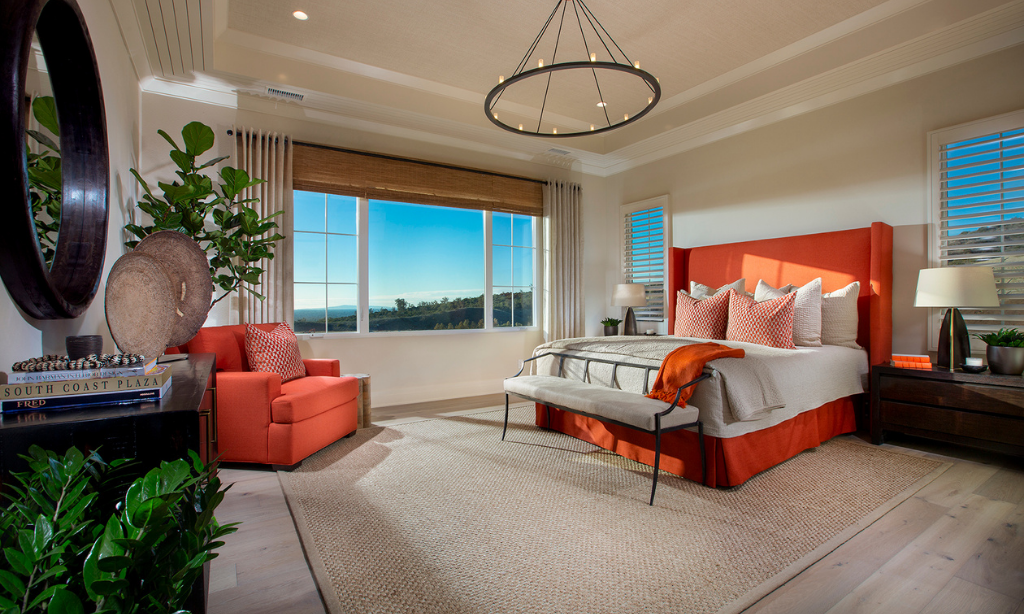 The bedroom is where you begin and end your day. The goal for cleaning this room is maintaining a space that makes you feel refreshed when you wake up in the morning and relaxed when you go to bed at night. The first thing to do would be to focus on the bed and wash the comforter, pillows and linen. Then, dust the lamp shades and mirror and polish any furniture. Irvine Pacific homes are known for having spacious walk-in closets with plenty of room to keep things organized year round. This is the ideal time to sort clothing by category, season, or color, creating a pile for what you want to keep, donate or throw away. Store handbags and jewelry in separate areas for easy access and retrieval, fully utilizing your entire closet space.
Bathroom
For a refreshed, spa-like bathroom, begin by washing shower curtains and bath mats. Then clean the bathtub and floors, focusing on the tile and grout that accumulates much of the dirt and debris. Cleaning the bathroom is also the perfect time to go through your makeup, skincare, and body care products. Drawer organizers make finding what you need quick and easy. Additional containers such as baskets or wooden lid bins provide additional storage that also looks elegant.
Kids' Playroom Or Pet Area
One of the best things to do for the kids room is to start with washing the stuffed animals and sanitizing the plastic ones. Because kids accumulate many toys over the years, now is a great time to go through them all. Set aside what's no longer interesting and consider donating to a local charity.  Utilize decorative bins for toy storage and consider color-coding school subjects to keep your child fully organized. Pacific Irvine homes offer a loft area that can be used as a playroom or study area, creating a fully functional space for everything you need.
For families with pets, now is a great time to wash or replace the pet bedding. Plus, clean any crates, kennels, or litter boxes. Thoroughly wash water and food bowls while also sanitizing pet toys and washing the plush ones.
Backyard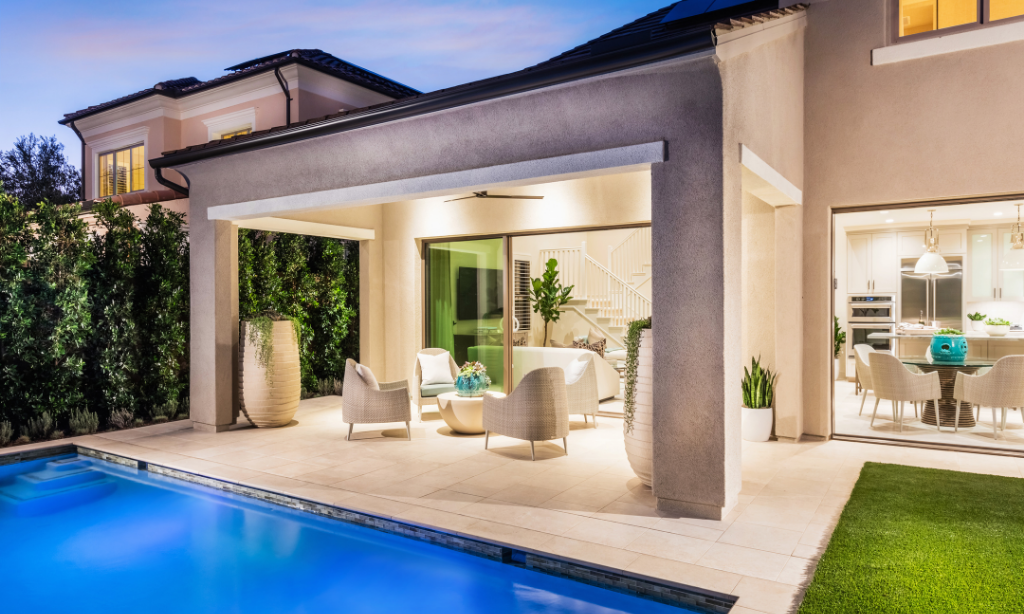 It's only a short time before the summer grilling season begins. To prep, wipe the lawn furniture clean and wash all cushions and pillows followed by cleaning the panoramic door glass windows. Next, check the barbecue grill and make sure that it's prepped for the propane or charcoal that it needs. 
Now that everything is clean and organized, it is a good time to walk through your home and pay attention to some of the smaller details often overlooked. Begin with sanitizing door knobs and light fixtures. Similarly, test the smoke alarm and replace the batteries as needed. It's also a good idea to check the air conditioner vents and filter before the heat of summer. Lastly, go through the medicine cabinet or first-aid kit and throw away expired medications or take them to a drop-off site such as the local pharmacy where it will be safely disposed of. Now that you're done, enjoy your clean, refreshed home.