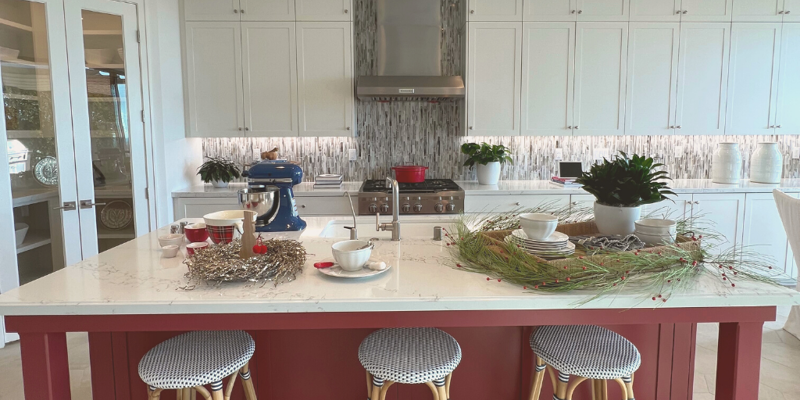 6 Ways to Transition Your Home Décor for the Seasons
As the days get shorter and the weather feels cooler, it's time to embrace the seasonal changes and reflect them throughout our homes. Decorating for the fall and winter months doesn't necessarily mean cartoon turkeys and snowmen! With just a few tasteful touches, you can transform your home. Whether you're looking to invest in pieces that will be used year after year, or you just want a fun and affordable DIY project to enjoy for a few weeks, we've identified six ways you can spruce up your space.
Change Colors for a Cozy Look 
Adding or swapping out colorful, decorative elements creates an instant transformation in your home. Deep greens, rustic oranges, and vibrant reds are trending, and incorporating those colors can elevate the space. Keep a base of classic neutral tones and incorporate color with brightly-hued red or rust-colored decorative pillows in the bedroom or living room spaces. In the kitchen, a change as simple as displaying the colored Dutch oven you normally keep stowed away makes for a tasteful pop of color.
Layer Up
We know that layering goes a long way in our fall and winter wardrobe, but the same principles can also be applied to home décor. Adding extra layers to your bedding, seating, and flooring provides depth and balance that are easy to incorporate in the winter months. An extra blanket on top of your bedding not only provides warmth at night, but it elevates the look of the bedroom during the day. Chunky knit blankets are another great way to adorn your home this time of year. You can find beautiful throws and blankets at Restoration Hardware at Fashion Island or have fun with the DIY route by making your own with materials found at Hobby Lobby at The Market Place in Tustin.
Area rugs or small runners can enhance a well-designed neutral floor, no matter the material. Flooring is critical in the overall look of your home and Irvine Pacific homebuyers can utilize the Irvine Pacific Design Center to choose from the newest hardwood, tile, stone, vinyl plank styles, and more to craft a stunning foundation that will act as the perfect canvas for seasonal accents. Rugs and runners can add a layer of color that will tie together the look of your new Irvine home in a classic and cozy way.
Bring in Texture
Including texture is an important element in design, as it creates visual interest by bringing dimension to a space. Earthy materials offer a warm and intimate expression that can be introduced in a variety of ways. Woven baskets are as practical as they are charming. Place smaller pieces by the door to hold keys, wallets, or anything you need to grab on your way out, and larger ones to hold toys, plants, or blankets. Add extra character with natural wood frames around photos or mirrors for a simple touch that's easy to swap for the fall and winter.
Optimize Lighting for Winter Months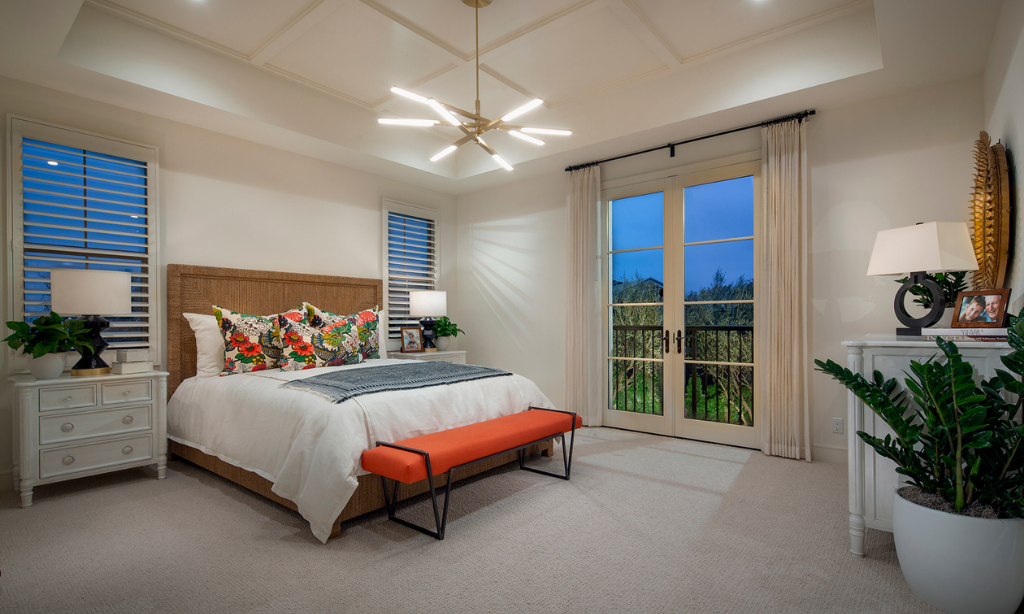 Bluffs in Portola Springs

As we say goodbye to daylight savings, adjusting your lighting can bring a completely fresh look to your home. If you opt for cool, white lighting in your house, consider changing a few lightbulbs to softer, warmer lights in a few key places to usher in a calm aesthetic.
Window treatments can be a simple way to add color to the walls of your home without any commitment. Swap out the curtains at different times of the year, let natural light in, and watch how transformative a quick change can be to the overall look of the room.
Include the Outdoors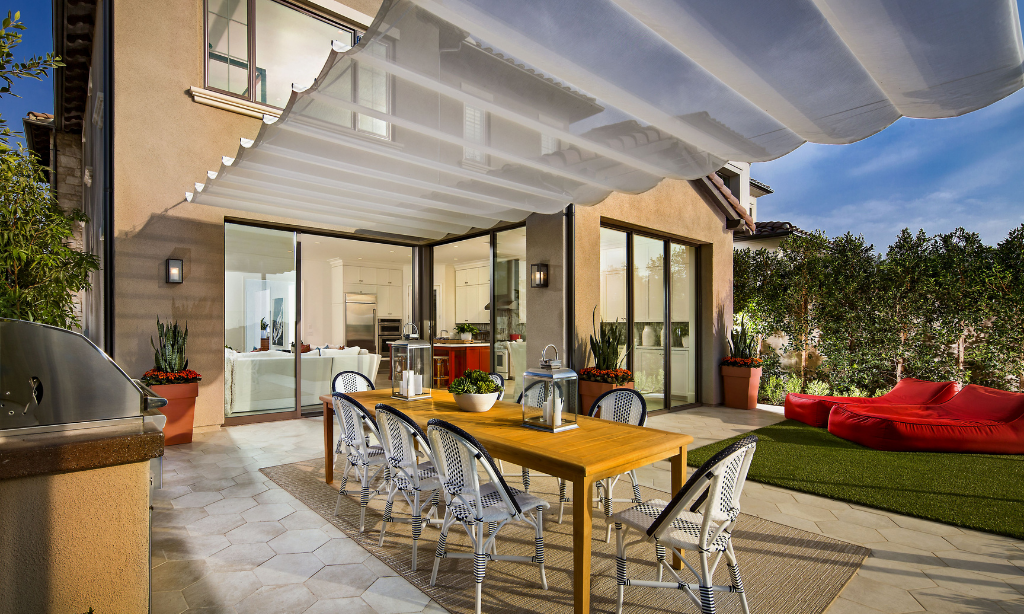 Como in the Reserve at Orchard Hills 
To add seasonal touches for the holidays, start with your front door. This can be accomplished by hanging a wreath or entryway decorations to greet guests. You can also incorporate touches of nature throughout the house by using gourds as décor or picking up a poinsettia this holiday season at Pavilions in the Orchard Hills Shopping Center. Bringing decorative touches to your backyard makes for a seamless transition from the indoors to the outdoors. At Como in the Reserve at Orchard Hills, panoramic sliding glass doors allow your decorative and design efforts to be seen from the inside and enjoyed on the outside. Décor shouldn't be relegated to the indoors, so enjoy seasonal looks by dressing up every part of your house.
Accent Details to Finish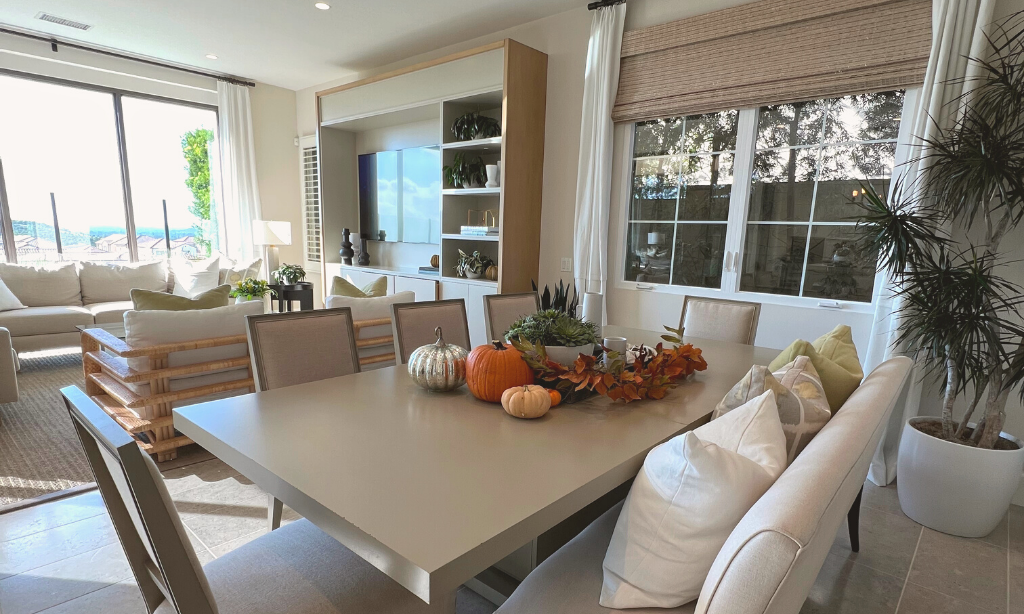 Como in the Reserve at Orchard Hills
When you are adding décor to your home, the simplest way to do so is with details sprinkled throughout the space. On empty surfaces, add wreaths, bowls, or any items you find that reflect your spirit and style. In the kitchen, put out a bowl of seasonal fruits, vegetables, or plants like artichokes, oranges, or pine trappings. In the bathroom, include fragrances that reflect the time of year. Yankee Candle, Target, and Anthropologie at Irvine Spectrum Center all have delightful seasonal scented soaps and candles to liven up your space. From table settings to accent rugs, HomeGoods in the Woodbury Town Center has a wide variety of decorative items for any and all areas of the house that need an interesting spark.
There are many ways to make your house into a place that reflects your style, and rotating décor allows you to bring variety into your space at different times of the year. No matter your style or taste, Irvine Pacific homes have something for you. To view available Irvine Pacific homes, click here.