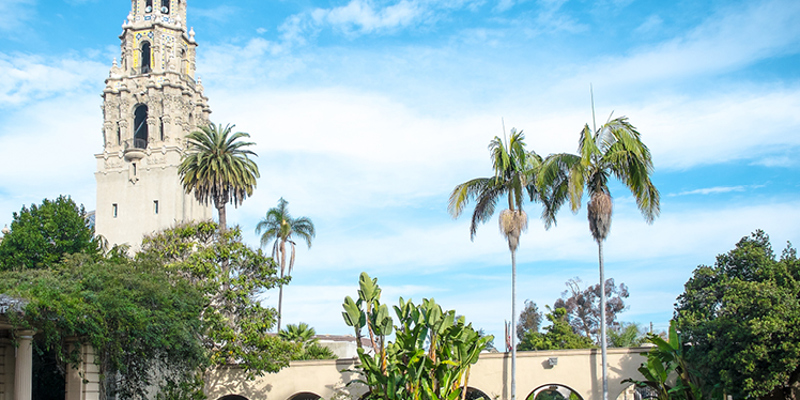 8 Day Trips to Take from Irvine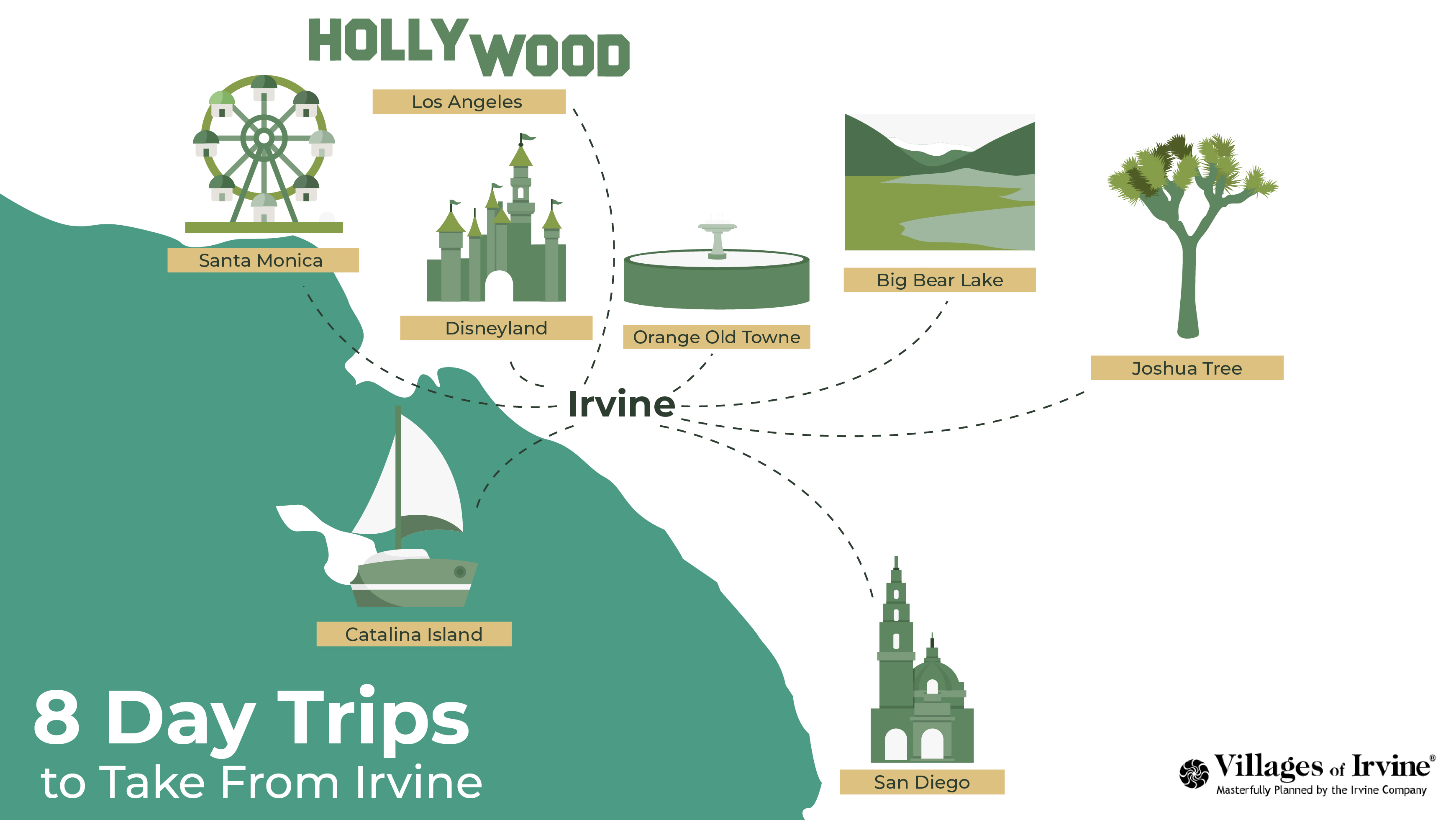 In 1864, James Irvine made the purchase of land in Orange County that would later be known as Irvine. These acres stretched from beautiful valleys to ocean view bluffs to picturesque seaside highways all begging for one thing: a road trip. 
When you live in Irvine, you're already surrounded by shopping, dining, and entertainment choices that many people fly from all over the world to visit. For residents though, Irvine's central location easily connects explorers to a wealth of day-trip worthy experiences. Find your next journey awaiting you with these Irvine adjacent destinations.
San Diego | 76 miles away 
Traveling from Irvine to San Diego, you'll shoot down the freeway with a view of the Pacific Ocean for almost the entire drive. If you're not up for driving, Amtrak offers round-trip train tickets from the Irvine Station directly to Old Town San Diego. There, you can explore the quaint details of California's first settlement, while learning about San Diego history. 
A day-trip to San Diego wouldn't be complete without checking out Balboa Park, a gorgeous urban cultural space containing the San Diego Zoo, 17 museums, a cactus garden, and multiple hiking trails. San Diego is also home to family-friendly theme parks, Legoland and Seaworld. The Gaslamp Quarter offers lively nightlife, and Little Italy gives foodies looking to dig into top-notch pizza and pasta just what they're looking for.
Orange Old Towne Historic District and Plaza | 11 miles away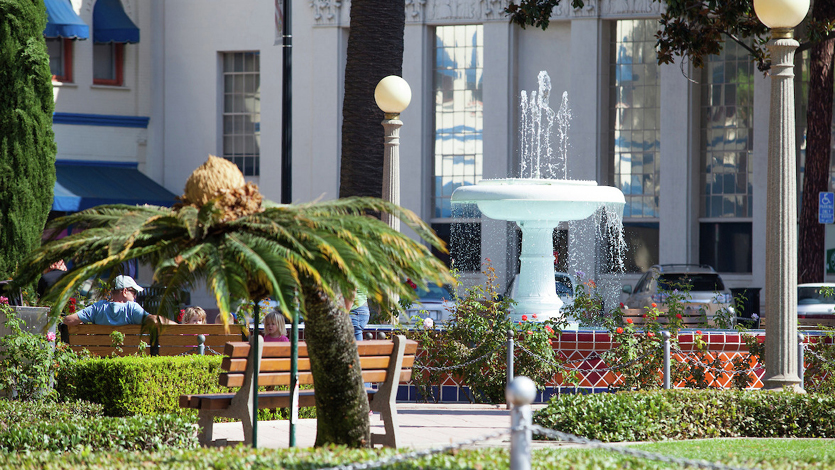 When you visit the Old Towne Orange plaza, you're stepping right into a slice of history. Better known by locals as the Orange Circle, the traffic roundabout features a small park in its center with a historic illuminated fountain that was originally built in 1887 for people to water their sheep.
Shops lining the town center exude an old-town feel, with some storefronts still appearing exactly as they did over a century ago. Prepare yourself for a day of browsing through antique shops and thrift stores. You can also scout out the longstanding cafes, or dine at new up and coming restaurants, then peruse unique specialty stores that you won't find anywhere else.
Catalina Island | 40 miles away
When you're looking for a destination that you can only find when you're living near Irvine, hop on a boat to Catalina Island for the day. Spend a perfect day touring this charming town, soaking in the sights, playing a round of mini golf, or even going scuba diving or kayaking, if you're feeling particularly ambitious. Food tours, art museums, and zip lines all await you on this 22 mile island only a short boat ride from Irvine.
Los Angeles | 40 miles away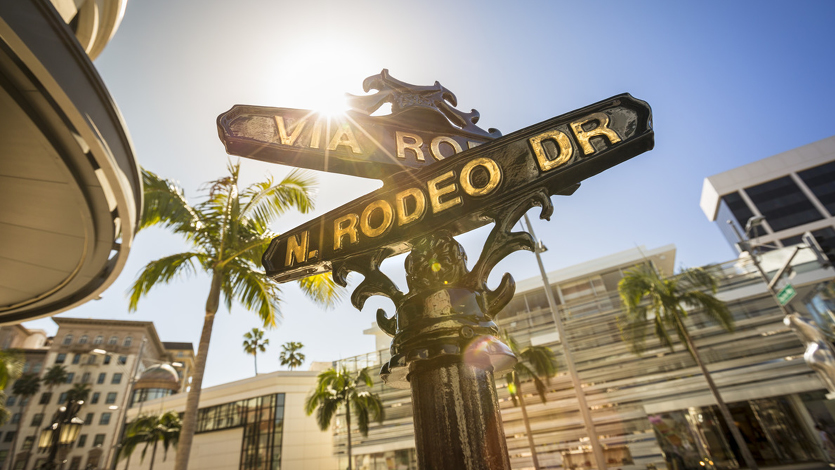 When planning a day trip to Los Angeles, you'll find yourself choosing from an endless list of thrilling ventures: taking in the view from the Griffith Observatory, soaking up the culture at LACMA, cruising through Rodeo Drive, or maybe scouting out the Venice Beach Boardwalk for some fresh tacos. 
Living in Irvine gives you the option to visit Los Angeles whenever you want, because a city alive with this many events and landmarks offers the opportunity for dozens of day trips. Sailing at Marina Del Rey, touring Warner Brothers Studio, visiting Universal Studios, catching a concert at the Hollywood Bowl - if you're looking for a day-trip packed with excitement, Los Angeles is your spot.
Santa Monica | 50 miles away
 
Located in Los Angeles County, a trip to Santa Monica means a day full of boardwalks, beachfront ferris wheels, and great food. The Santa Monica Pier has been a beloved staple of Southern California since 1909, offering plenty of fresh seafood restaurants and even more rides and games for the whole family to enjoy.  Third Street Promenade is a popular tourist destination for those seeking a high end shopping center, and also features a farmer's market every Wednesday morning. Framed by mountains on one side and with an expanse of scenic beach for you to stroll down, Santa Monica is a mini-vacation getaway only a short drive from Irvine.  
Big Bear Lake | 88 miles away 
Nestled away in the mountains in San Bernardino County, you'll find the quaint village of Big Bear poised to offer you all manner of seasonal day-tripping fun. Head up the slopes in the winter and get ready to snowboard and ski, or head out in the summer to try your hand at fishing, paddleboarding, boating, and more.
After a full day in the mountains or out on the water, head to Big Bear Lake Village and walk through streets peppered with boutiques, woodcraft retailers, and family-owned restaurants. As an added bonus, you can also stop by the first original McDonald's on your way back to Irvine. 
Disneyland | 14 miles away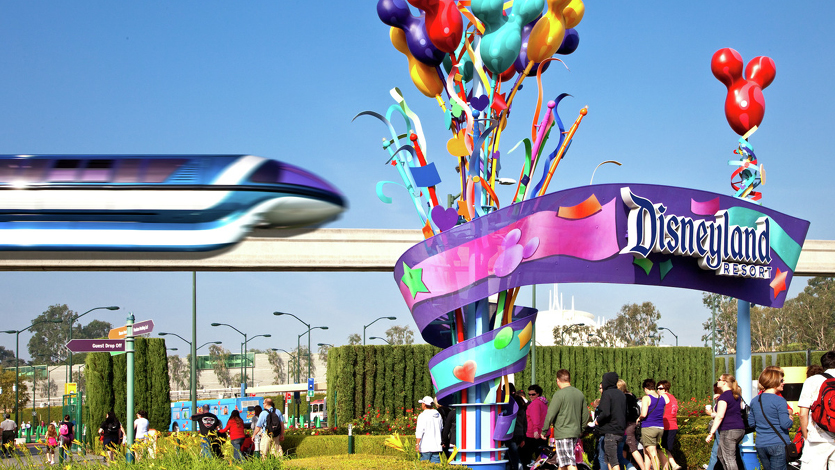 You're not far from the happiest place on earth when you're an Irvine resident. Take a front row seat to all of the Disney magic at Disneyland Park and Disney's California Adventure Park. SoCal residents get special discounts on park passes so you can explore the latest and greatest at both parks, like the brand new Star Wars: Rise of the Resistance. SoCal annual passholders can benefit from special discounts on food and retail throughout the park, so you can take a little Disney back home to Irvine. 
Joshua Tree | 117 miles away 
Drive into Joshua Tree National Park from Irvine and you'll feel like you were transported to a different land. Nowhere else in the world can you find the unique, slow-growing trees native to the Mojave Desert than Joshua Tree, which can grow up to 80 feet tall and live longer than 500 years. From Irvine, it's easy to make a day-trip out of this desert wonderland by doing a few hikes, visiting the cactus garden, grabbing a bite to eat in the small neighboring town, and then heading back home. 

When you live in Irvine, there's always something right around the corner to explore. Your next adventure awaits when you move into a Villages of Irvine home.