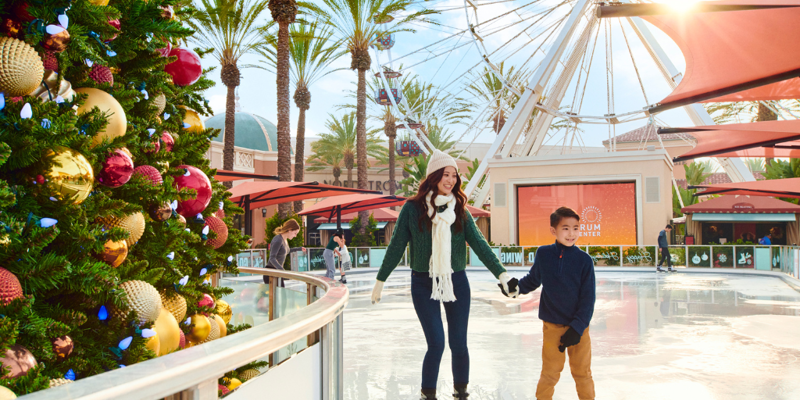 Eight Things to Do in Irvine This Holiday Season
This time of year, twinkling lights line the streets of Irvine and excitement fills the air in anticipation of the holidays. When you live in an Irvine Pacific home, you'll find an abundance of nearby family-friendly events, and we've put together a few of the best activities this season. Whether you're looking to visit Santa, contribute to a cause or find the best holiday lights in the city, there is fun to be had for everyone. 
Visit Santa at Irvine Spectrum Center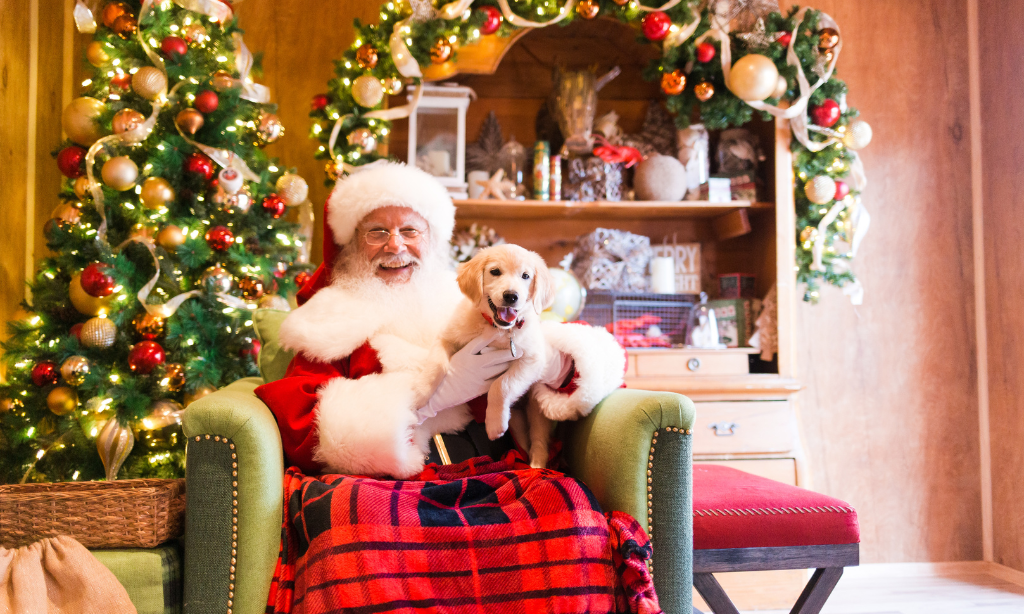 Santa Claus at Irvine Spectrum Center
Get your list and check it twice because jolly old Saint Nick is now at Irvine Spectrum Center! Visit Santa's chalet now through December 24 to say hello and take a photo. Picture packages start at $39.99, so you can take the long-lasting memories home with you. Get your furry friends photographed during "Pet Nights" on Mondays from 5-7 PM. Donations will be collected to benefit The Humane Society of the United States. Everyone is welcome, with or without pets!
Hikari Lights Festival at Tanaka Farms
Join in on the celebration of the Hikari Lights Festival at Tanaka Farms. Loosely translated, 'Hikari' means 'shine' in Japanese and this event is all about experiencing the joy and magic of the farm while enjoying thousands of twinkling lights. Wagon rides will take your family around the brightly-illuminated farm and fun photo opportunities are available throughout. After the wagon ride, be sure to stop by the festival grounds to enjoy arts and crafts, photos with Santa and food from Tanaka Grill. The event is open from 4:30-10 PM until December 30, with closures throughout the month, so visit the website for pricing details and availability.
Participate in a Toy Drive
'Tis better to give than to receive this time of the year. Help make a difference and participate in the City of Irvine's Toy Drive, which benefits Irvine's adopted 2/11 Marine Battalion. Now through December 14, bring a new, unwrapped toy suitable for children ages 12 and under to one of the drop-off locations, such as the Irvine City Hall and Irvine Police Station, open 8 AM-5 PM, Monday through Friday. You can also participate in the Spark of Love Toy Drive, going on now through December 24. Toys can be collected at any Orange County Fire Authority station or the OC Fire headquarters at 1 Fire Authority Road in Irvine.
Tree Lighting and Skating at Irvine Spectrum Center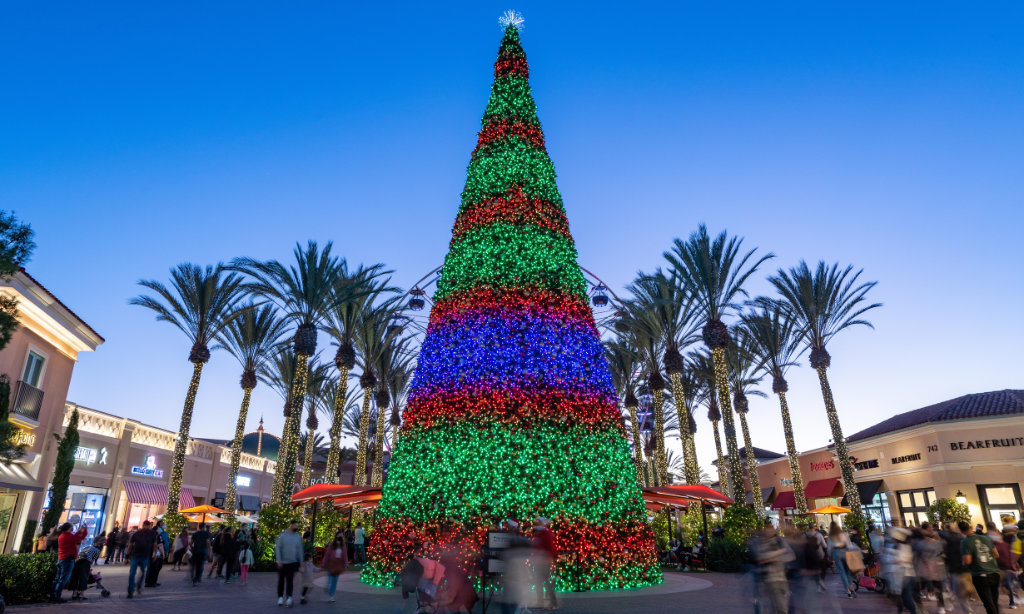 Tree Lighting at Irvine Spectrum Center
Get in the holiday spirit with the nightly tree lighting at Irvine Spectrum Center. The decorated 75-foot tree is located in front of the Giant Wheel, and now through January 8, you can witness a choreographed light show every evening beginning at 5 PM. After the show, lace up your skates and enjoy the center's ice skating rink. The arena is open daily at 2 PM, and group events and private parties are available. To learn more about ticket pricing and hours, visit the website. 
Find a Furry New Family Member
If your family has been thinking of adding a furry family member to your home, there's never been a better time to adopt a dog or cat. From 10 AM-2 PM on December 11, Irvine Animal Care Center will be hosting its 16th annual Home for the Holidays Pet Adoption and Fundraiser, where you can find the best fit for your family. The event will include gourmet food trucks, a bake sale, pet vendors and hundreds of animals looking to find their forever homes. The cost of admission is $5 for adults and free for children, and tickets can be purchased at the door.
Look for the Best Light Displays
As it gets darker earlier, there is more time to enjoy the holiday lights in your Irvine Pacific neighborhood and throughout the city. Bring the family to get a cup of hot cocoa or coffee from one of Irvine's best coffee shops, then drive around looking at lights! Some of the best light displays in Orange County are in Irvine and its surrounding cities. 
Run for a Claus 5K Around UCI
Hit the ground running this holiday season with Irvine's most popular seasonal race. Run for A Claus offers a 5K run around the University of California Irvine, 1-mile kids run and a virtual run. This themed event benefits The Salvation Army and The OC Marathon Foundation. Participants will receive a swag bag of goodies, such as Santa hats, a beard and a medal. 
Holiday Shopping in Irvine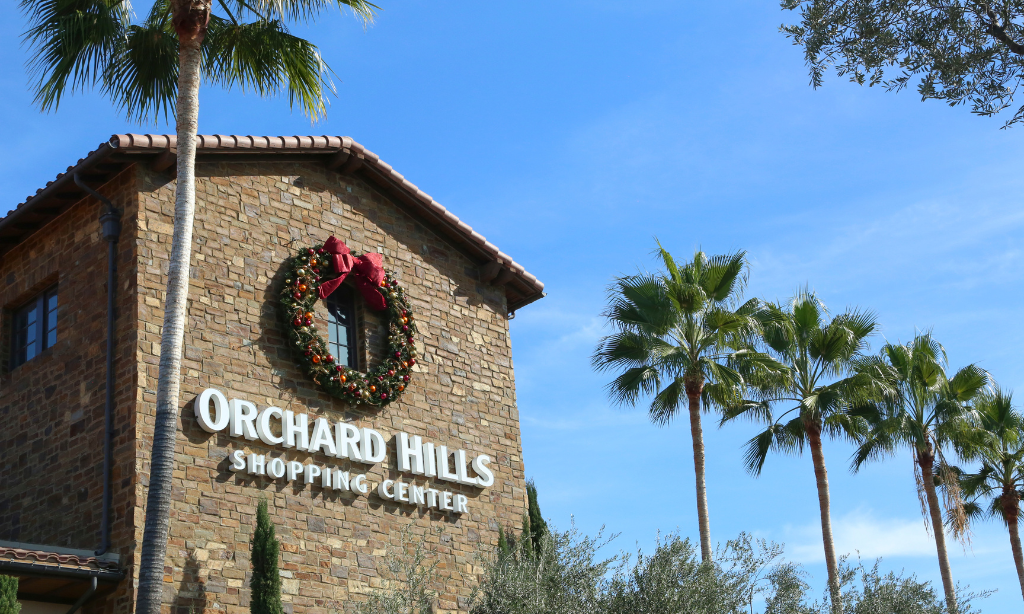 Orchard Hills Shopping Center
Find something for everyone on your list this season from regional and neighborhood shopping centers that make gift-giving easy. From luxury stores nearby at Fashion Island to versatile Orchard Hills Shopping Center and Woodbury Town Center, you can find everything from high-end clothing and athletic wear to craft materials and salon services. If you want to get in the holiday spirit while you find presents, shop at Irvine Spectrum Center on Friday and Saturday evenings from 6-8 PM to enjoy the sounds of the season from live carolers near H&M. No matter who you are shopping for, you're sure to find everything you need in Irvine.

Living in Irvine means being close to exciting events throughout the year, and these are a few examples of the many holiday activities you can enjoy in Irvine. It's a great time of year to schedule a tour to find the perfect Irvine Pacific home for your family.