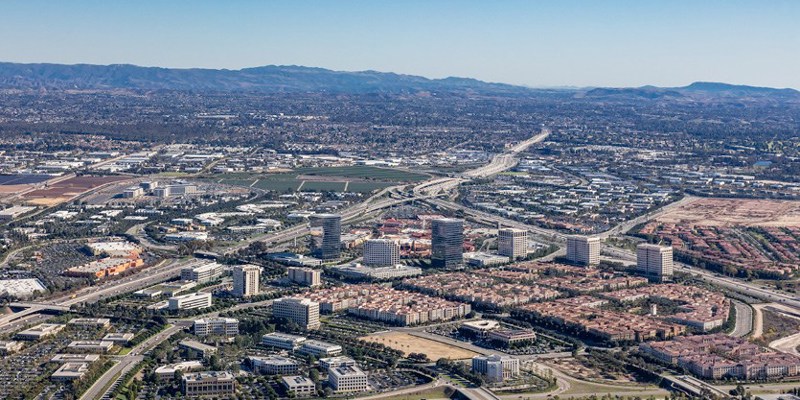 Why Irvine's Thriving Economy Contributes to Long-Term Home Value
Irvine is known for many incredible features: award-winning schools, safe streets, beautiful scenery, and, now, one of the fastest growing economies in the country. With a highly skilled workforce, a robust and diverse portfolio of local businesses and an entrepreneurial spirit, it's no wonder Irvine boasts over a third of Fortune 500 Companies and offers the most jobs per resident in America. Here, residents not only have access to plenty of job opportunities, they can also enjoy shorter commutes to work, a diverse array of local businesses and other convenient features that enhance the overall quality of life. Check out our top three reasons why Irvine's economy contributes to long-term home value.
1. AN ABUNDANCE OF VIBRANT WORKPLACE COMMUNITIES
One of Irvine's major draws is an abundance of jobs located right around the corner from amazing homes. Orange County's venture capitalist investments rank within the top 10 list of U.S. metro areas and there are 874 tech companies in Irvine alone. At the forefront of Irvine's booming economy is Irvine Company, the masterplanners behind the city's most Vibrant Workplace Communities. Irvine Spectrum, for example, houses 70 percent of Irvine's tech companies, including powerhouses like Amazon, Blizzard Entertainment and Broadcom. In addition to attracting some of the biggest names in business to Irvine, these Vibrant Workplace Communities provide features such as state-of-the-art fitness centers, on-site dining and a short commute time, that will help you achieve that coveted work-life balance.
2. INNOVATION HAS A HIGH SUCCESS RATE
Innovation is booming in Irvine and the city is quickly becoming a hub for forward-thinkers. Currently, Irvine receives over half of all Orange County's venture capital funding and, since 2010, venture capitalists have invested over $8.6 billion in Irvine-based businesses. One leading Irvine startup incubator is EvoNexus, located at The Vine OC. This active workplace caters to the demands of dynamic startups and, already, EvoNexus startups have raised a total of $1.3 billion in funding. Irvine's thriving startup scene and resulting financial success has caught the attention of homebuyers around the world, creating a high demand for homes in the area. New home value in Irvine outpaces the rest of the nation by 73 percent and, as more industry leaders set up shop in Irvine, that home value will continue to appreciate.
3. AWARD-WINNING SCHOOLS BUILD A BRILLIANT WORKFORCE
Irvine businesses not only innovate the global economy, they also inspire local students to become leaders in their fields. Irvine's award-winning public schools and world-renowned colleges are producing a growing workforce of brilliant entrepreneurs, scientists and inventors. Named one of the top public universities in the country by Newsweek, UC Irvine is a leader in academic achievement, especially in the fields of science and technology, with approximately 40 percent of UC Irvine students enrolling in a STEM-related field. In addition to receiving a top-notch education, students can also participate in internship and research programs with tech leaders, like Toshiba, Cisco, Intel and Blizzard. With so many amazing educational resources and career opportunities, it's no wonder Irvine is seeing a significant increase in home value.

When you choose to live in Irvine, you're not only investing in an amazing home, you're also investing in financial success, convenient work-life balance and your family's future. For more information on Irvine homes and living in Irvine, visit VillagesofIrvine.com.